African Geranium
Pelargonium sidoides
Pelargonium sidoides, commonly known as African geranium or Umckaloabo, is an endemic species in the South African and Lesotho regions where it is widely distributed. It belongs to the Geraniaceae family, or geraniums which are most often recognized as ornamental and landscape plants. Various species in the Pelargonium genus have been documented for traditional medicinal use by indigenous communities in South Africa, and the traditional use of African geranium is centered in the Eastern Cape region. Historical records regarding its use in ethnomedicine date back to the mid-19th century.
What is African Geranium Used For?
Pelargonium sidoides is commonly used in Europe in respiratory support products.* Most of the modern research focuses on supporting a healthy immune response and occasional dry coughs that can arise during respiratory challenges.* Uses in ethnomedicine generally revolve around supporting a healthy gastrointestinal tract, which may have traditionally been a higher priority in South Africa. The traditional use for GI support is thought to be attributed to the astringency, or presence of tannins in the tubers. Studied in vitro, Pelargonium sidoides has shown microbial inhibitory properties and an ability to modulate immune function, supporting the innate defenses of the immune system by preparing the body to respond to bacterial and viral challenges more effectively. Results from numerous clinical trials have supported the in vitro research. It has also been shown to support normal mucus thickness and aid the body's clearance of mucus from the respiratory tract.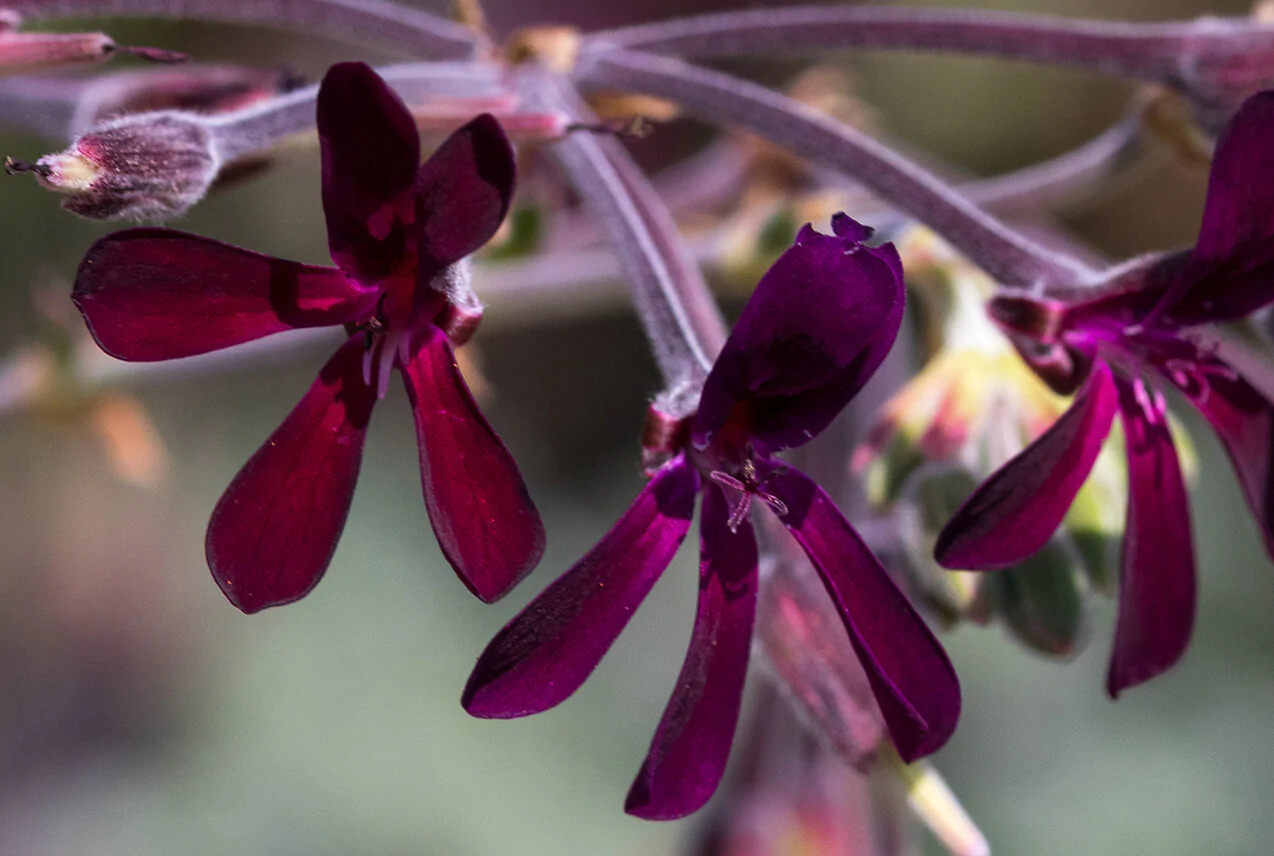 Traditional Health Benefits of African Geranium
Digestive Support
Immune Support
Respiratory Support
Additional Information on this Herb
Coumarins (including Umckalin [7-hydroxy-5,6-dimethoxycoumarin], 5,6,7- trimethoxycoumarin, coumarin glycosides, and coumarin sulfates). Coumarin  glycosides and coumarin sulfates are unique to Pelargonium sidoides. Tannins,  phenolic compounds (including quercetin, catechin, gallic acid, and shikimic acid 3- O-gallate), and proanthocyanidins are also present. 
Tuberous Roots
1. European Medicines Agency: EMA/HMPC/444244/2015 – European Union herbal monograph on Pelargonium sidoides DC and/or Pelargonium reniforme Curt., radix, https://www.ema.europa.eu/en/documents/herbal-monograph/final-european-union-herbal-monograph-pelargonium-sidoides-dc/pelargonium-reniforme-curt-radix-revision-1_en.pdf, Aug 2022. 2.     European Medicines Agency: EMA/HMPC/444251/2015 – Assessment report on Pelargonium sidoides DC and/or Pelargonium reniforme Curt., radix, https://www.ema.europa.eu/en/documents/herbal-report/final-assessment-report-pelargonium-sidoides-dc/pelargonium-reniforme-curt-radix-revision-1_en.pdf, Aug 2022. 3.     Mack Moyo, Johannes Van Staden. "Medicinal properties and conservation of Pelargonium sidoides DC." Journal of Ethnopharmacology, 152 (2014) pp. 243-255. http://dx.doi.org/10.1016/j.jep.2014.01.009. 4.     Mahomoodally, M. Fawzi. "Traditional Medicines in Africa: An Appraisal of Ten Potent African Medicinal Plants." Evidence-Based Complementary and Alternative Medicine, vol. 2013, Article ID 617459, pp. 1-15. http://dx.doi.org/10.1155/2013/617459 . 5.     Shakier Samie, et al. "The antifungal and Cryptococcus neoformans virulence attenuating activity of Pelargonium sidoides extracts." Journal of Ethnopharmacology, 235 (2019) pp. 122-132. https://doi.org/10.1016/j.jep.2019.02.008. 6.     S.P.N. Mativeandlela, N. Lall*, J.J.M. Meyer. "Antibacterial, antifungal, and antitubercular activity of (the roots of) Pelargonium reniforme (CURT) and Pelargonium sidoides (DC) (Geraniaceae) root extracts." South African Journal of Botany, 72 (2006) pp. 232-237. doi:10.1016/j.sajb.2005.08.002. 7.     T. Brendler, B.-E. van Wyk. "A historical, scientific and commercial perspective on the medicinal use of Pelargonium sidoides (Geraniacea)." Journal of Ethnopharmacology, 119 (2008) pp. 420-433. doi:10.1016/j.jep.2008.07.037
Not for use during pregnancy or lactation. If you have a medical condition or take  medications, please consult with your healthcare practitioner before use.
This information in our Herbal Reference Guide is intended only as a general reference for further exploration, and is not a replacement for professional health advice. This content does not provide dosage information, format recommendations, toxicity levels, or possible interactions with prescription drugs. Accordingly, this information should be used only under the direct supervision of a qualified health practitioner such as a naturopathic physician.
Popular Herbs
Our Herbal Reference Guide lets you enhance your relationship with herbs by giving you a comprehensive profile of each plant.
We're sorry, there were no result found for Popular Herbs.