Black Cohosh
Actaea racemosa
This particular species is Native to the rich woodlands of the Eastern part of the U.S. from Massachusetts all the way west to Indiana and as far south as Missouri and Georgia. It has many common names; Snakeroot, Bugbane, Fairy Candles, Rattletop, depending on where you are. Its medicinal uses are well noted in the literature dating back to the 1800's where you will most likely find it named, Macrotys after a group of "resins" early chemists isolated from the rhizomes. Native American tribes; including Cherokee, Algonquian, and Iroquois used the plant as an alcohol extract ("in spirits"), to support a healthy inflammatory response, to support bronchial health, to support normal levels of energy, and to support the female reproductive system during the menopausal and perimenopausal years.
What is Black Cohosh Used For?
The triterpine glycosides, particularly 27 deoxyacetin and acetin, are the chemicals used to standardize the most effective preparations used in published clinical trials. It is approved by the German Commission E monographs for the following applications; complaints of premenstrual, heavy menstrual cycle, or climacteric origin. In one randomized, double-blind, placebo controlled comparative clinical trial, 80 women with climacteric symptoms received a standardized preparation of Black Cohosh, conjugated estrogens (.625 mg/day) or placebo for 12 weeks. At the end the patients receiving Black Cohosh had improved compared to both placebo and estrogen. Both physical (measured by the Kupperman index) and psychological (measured by the Hamilton Anxiety Scale) symptoms were significantly improved. More research is needed to fully understand the exact mechanism of activity.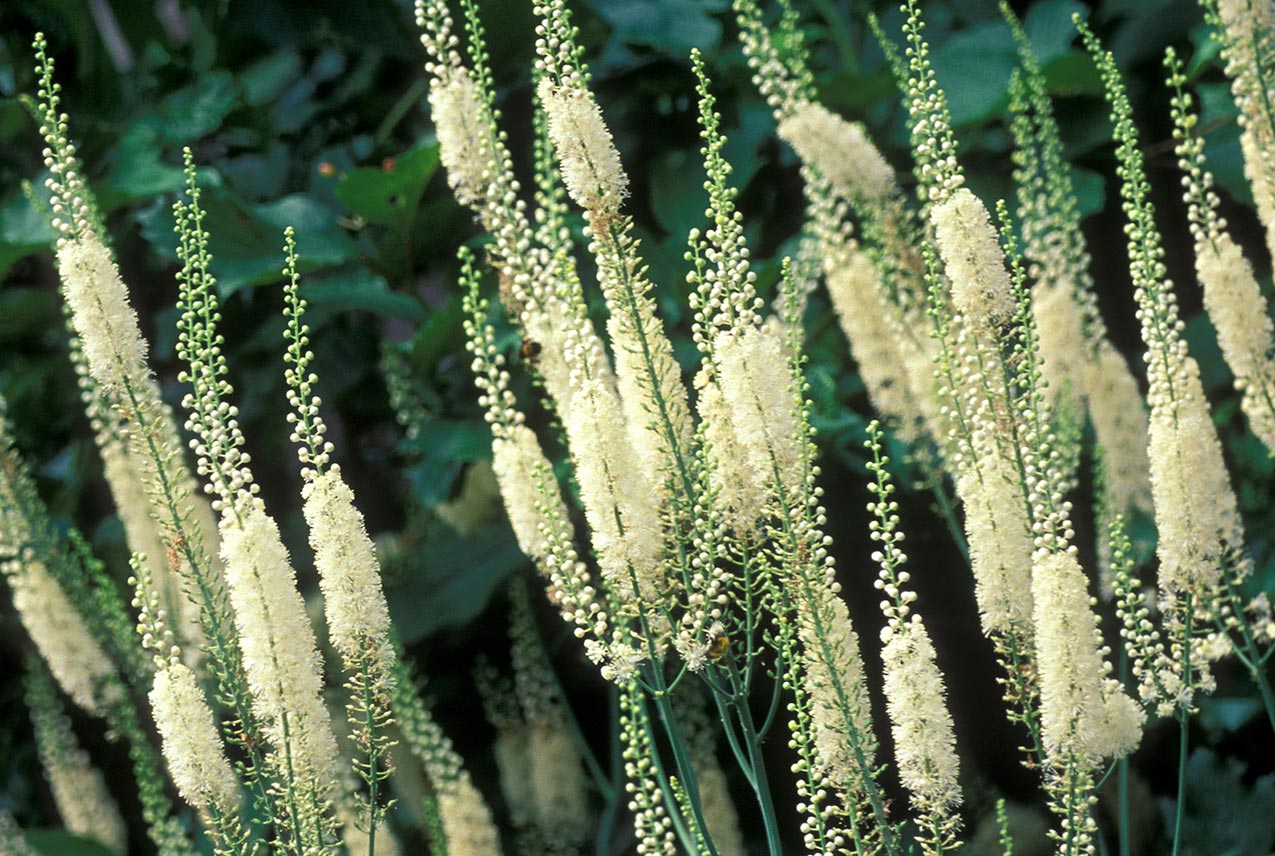 Traditional Health Benefits of Black Cohosh
Foundational Support
Women
Additional Information on this Herb
There are many "active" chemicals in Black Cohosh root including; Phytosterin, the isoflavone formononentin; isoferulic, fukinolic, caffeic, and salicylic acids, sugars, tannins, long chain fatty acids, 15-20% resins including cimicifugin and triterpene glycosides.
Root
Stoll W. Therapeutikon 1987; 1:23-31. Felter HW, Lloyd JU. King's American Dispensatory, 18th edn, 3rd revision vol 1, 1905. Jarry H, Harnischfeger G, Duker EM. Planta Medica 1985; 51 (4): 316-19.
Not for use during pregnancy or lactation. If you have a medical condition or take pharmaceutical drugs please consult your doctor prior to use.
This information in our Herbal Reference Guide is intended only as a general reference for further exploration, and is not a replacement for professional health advice. This content does not provide dosage information, format recommendations, toxicity levels, or possible interactions with prescription drugs. Accordingly, this information should be used only under the direct supervision of a qualified health practitioner such as a naturopathic physician.
Popular Herbs
Our Herbal Reference Guide lets you enhance your relationship with herbs by giving you a comprehensive profile of each plant.
We're sorry, there were no result found for Popular Herbs.