Kelp
Laminaria digitata
Kelp is one of 31 species in the family of Laminareaceae, or "Brown Seaweeds" along with Kombu Laminaria groenlandica. Seaweeds or Sea Vegetables are large, visible macroalgae growing attached to each other, rocks, and the seafloor in the intertidal zone and shallow seawater. All seaweeds use sunlight to produce food; they're photosynthetic. Laminaria digitata occurs in the northwest Atlantic Ocean from Greenland south to Cape Cod, MA and in the northwest Atlantic from northern Russia and Iceland south to France. Kelp ash is used in soap and glass production. Until a new process was commercialized in the early 19th century, burning of kelp in Scotland was one of the principal industrial sources of soda ash. Alginate or Sodium alginate, a kelp-derived carbohydrate, is used to thicken products such as toothpaste, jelly, and ice cream. Alginate powder is also used frequently in general dentistry and orthodontics for making impressions of the upper and lower arches. Kelp is also used frequently in fertilizer, especially in the Channel Islands, where it is known as vraic.
What is Kelp Used For?
Kelp is one of the highest known natural sources of minerals. Seaweeds are 20-50% dry weight mineral. The elements abundant in seaweeds include: potassium, sodium, calcium, magnesium, zinc, copper, chloride, sulfur, phosphorous, vanadium, cobalt, manganese, selenium, bromine, iodine, arsenic, iron, and fluorine. Kelp in particular is a good source of potassium, calcium, iodine, magnesium, and selenium. Kelp also contains an ingredient, Fucoidan, which has struck the interest of researchers in the field of immunology. Fucoidan is a sulfated polysaccharide found in the cell walls of many species of Brown seaweed. Fucoidans may support immune function, provide cardiovascular support and may keep certain levels of inflammation within a healthy range. The iodine in Kelp promotes a healthy metabolism.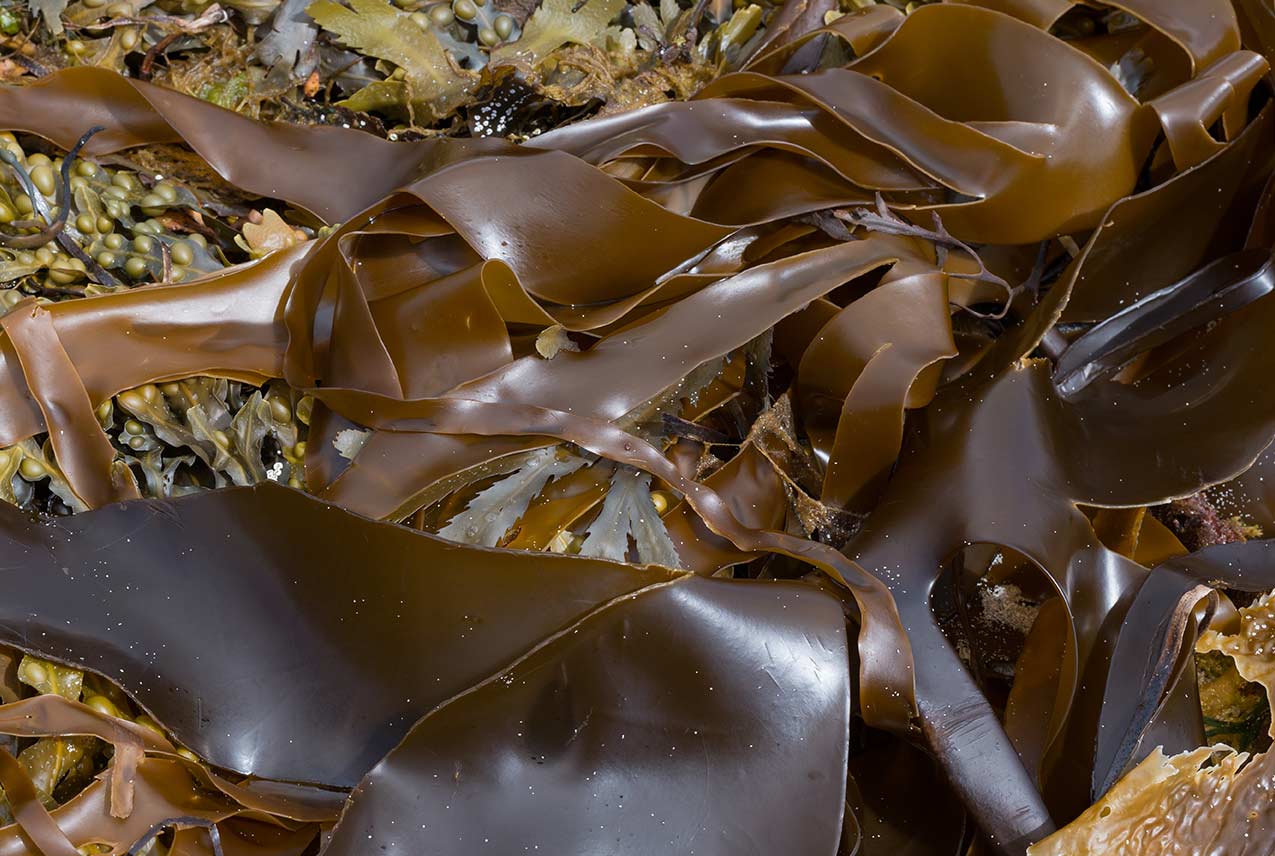 Traditional Health Benefits of Kelp
Digestive Support
Foundational Support
Women
Stress Support
Additional Information on this Herb
Minerals; potassium, sodium, calcium, magnesium, zinc, copper, chloride, sulfur, phosphorous, vanadium, cobalt, manganese, selenium, bromine, iodine, arsenic, iron, and fluorine.
Fronds
Aisa Y; Miyakawa Y; Nakazato T; Shibata H; Saito K; Ikeda Y; Kizaki M (2005 Jan). American Journal of Hematology 78 (1): 7–14 Drum, Ryan; Medicinal Uses of Seaweeds-Updated. http://www.ryandrum.com/seaweeds.htm Hayashi K, Nakano T, Hashimoto M, Kanekiyo K, Hayashi T. Int Immunopharmacol. 2008 Jan;8(1):109-16.
If you are pregnant, have a medical condition or take pharmaceutical drugs please consult your doctor prior to use.
This information in our Herbal Reference Guide is intended only as a general reference for further exploration, and is not a replacement for professional health advice. This content does not provide dosage information, format recommendations, toxicity levels, or possible interactions with prescription drugs. Accordingly, this information should be used only under the direct supervision of a qualified health practitioner such as a naturopathic physician.
Popular Herbs
Our Herbal Reference Guide lets you enhance your relationship with herbs by giving you a comprehensive profile of each plant.
We're sorry, there were no result found for Popular Herbs.