Lemon
Citrus X limon
Lemon, and other citrus fruits are common in the tropics worldwide. Lemon is believed to be native throughout the monsoon regions of Asia, and to have been introduced to the tropics of the Mediterranean and the Americas. Lemons found their way to Italy by 200 AD, and are thought to have been cultivated in Egypt and Iraq by 700 AD. They belong to the Rutaceae family, along with other medicinal plants Buchu (Agasthoma betulina), Rue (Ruta graveolans), and Prickly Ash (Zanthoxylum spp.). They are considered an evergreen tree that can grow up to 20 feet tall, and if the weather allows will continue to grow and fruit all year long. True lemons actually have sharp thorns lining their twigs, though some varieties have been bred to lose this trait. Lemon is not an original citrus fruit, but rather a hybrid between a citron and a sour orange.
Lemon and its citrus fruit cousins became revered by Dutch botanists in the 17th century. Orangeries, which are buildings like greenhouses that were built as extension with many windows to protect exotic trees and plants from harsh northern winters, became popular and common additions to the homes of the wealthy throughout Europe. James Lind (1716 – 1794), a Scottish surgeon, was the first to identify lemons and citrus fruits as a treatment for sailors suffering with scurvy. In rudimentary clinical trials, using 6 pairs of scurvied seamen, those who received citrus quickly recovered. Lind's work was published in Edinburgh, Scotland in 1753, under the name Treatise of the Scurvy, and he is credited with the discovery of the cure.
What is Lemon Used For?
Lemons hold a special place in many kitchens as a unique source of tart flavor as well as acid. Its acidity makes it useful in food preparation and preservation. Lemon juice's acidic nature is able to prevent microbial growth, thanks to its phenolic acid compounds including gallic acid, ferulic acid, and caffeic acid. It contains many flavonoids, which act as antioxidants to help to prevent spoilage and rotting when used in foods. Energetically, Lemon is thought to be cooling. During the hot months of the summer, lemonade is used to cool the body and offer hydration, as similarly, lemon and honey in hot water is used to cool a fever and sore throat. Lemons are high in d-limonene, which has been shown to be protective to the gastrointestinal system and tissues, a part of the body that deals with heat from stomach acid and 'digestive fire'.   The essential oil of lemon can be derived from various parts of the plant, each part delivering a unique terpene profile. The essential oils of lemon can be derived from the peel tend to be high in limonene, and β-pinene. The leaves of the lemon create lemon petitgrain oil, which tends to have higher concentrations of geraniol, and neral. The blossoms of lemon were also found to be high in limonene, but also contained terpenes not found in the leaves or fruit, such as (E)-ocimene, α-terpinene, α-citrol, and β-farnesene. Lemon peel essential oil, which is the most common of the three, is used in aromatherapy for its mood uplifting and energizing affects. It is also useful in the home and kitchen for cleaning, making an impressive solvent for sticky residues.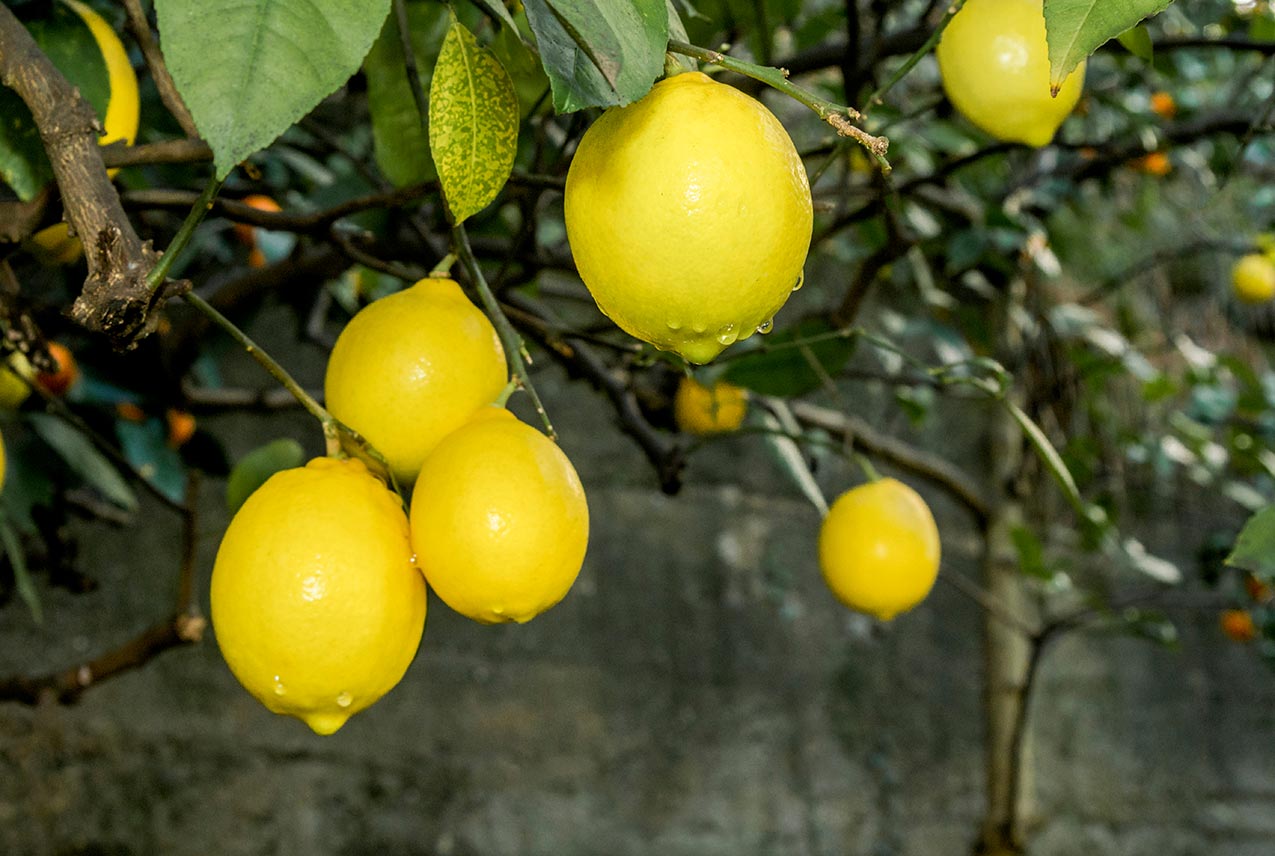 Traditional Health Benefits of Lemon
Energy Support
Immune Support
Digestive Support
Additional Information on this Herb
The fruit and juice contain sugars, polysaccharides include pectin substances containing galacturonan, cellulose, glucan, xylan, and arabinan, and flavonoids including diosmin, eriodictyol, eriocitrin, rutin, hesperetin, hesperidin, neohesperidoside, naringenin, eriodictyol glycoside, neodiosmin, rutinoside, chrysoeriol, isorhamnetin, limocitrin, limocitrol, and isolimocitrol, and phenolic acids including caffeic acid, ferrulic acid, and gallic acid.   The essential oil of the fruit contains terpenes including d-limonene, linalool, linalyl acetate, β-pinene, γ-terpinene, α-pinene, β-myrcene, and others. The essential oil of the leaves includes geraniol and nerol. The essential oil of the flowers contains (E)-ocimene, and α-terpinene, α-citrol, β-farnesene.
Essential Oil, fruit juice
1.)https://www.itis.gov/servlet/SingleRpt/SingleRpt?search_topic=TSN&search_value=825214#null 2.)Moufida S, Marzouk B. Biochemical characterization of blood orange, sweet orange, lemon, bergamot and bitter orange. Phytochemistry 2003;62:1283-9. 3.)Ranganna S, Govindarajan VS, Ramana KV. Citrus fruits. Part II. Chemistry, technology, and quality evaluation. A. Chemistry. Critical Rev Food Sci Nutr 1983;19:313-86. 4.)Noura S. Dosoky and William N. Setzer. Biological Activities and Safety of Citrus spp. Essential Oils. International Journal of Molecular Sciences. 2018 Jul; 19(7): 1966. 5.)Xiaomeng Li, Rangjin Xie, Zhenhua Lu, and Zhiqin Zhou. The Origin of Cultivated Citrus as Inferred from Internal Transcribed Spacer and Chloroplast DNA Sequence and Amplified Fragment Length Polymorphism Fingerprints. Journal of the American Society for Horticultural Science, 2010; 135: 341-350 6.)Wu, Albert et al. Genomics of the origin and evolution of Citrus. Journal of Nature. volume: 554, pages 311–316 (15 February 2018) 7.)Wood, Matthew. The Earthwise Herbal: The Complete Guide to Old World Medicinal Plants. North Atlantic Books: Berkeley, CA. 2008. 8.)Khan, MSA et al. Fruit-Derived Polysaccharides and Terpenoids: Recent Update on the Gastroprotective Effects and Mechanisms. Front Pharmacol. 2018 Jun 22;9:569. doi: 10.3389/fphar.2018.00569. eCollection 2018. 9.)Tisserand, R., Young, R. Essential Oil Safety, 2nd Edition. Churchill Livingstone Elsevier: 2014. 10.)Muhammad Azam, Min Song, Fangjuan Fan, Bo Zhang, Yaying Xu, Changjie Xu,* and Kunsong Chen. Comparative Analysis of Flower Volatiles from Nine Citrus at Three Blooming Stages. International Journal of Molecular Sciences. Nov. 2013. 14(1): 22346-22367. PMID: 24232454. 11.)http://www.missouribotanicalgarden.org/PlantFinder/PlantFinderDetails.aspx?kempercode=b548 12.)Wanpeng, Xi., Juanfang, Lu, et al. Characterization of phenolic profile and antioxidant capacity of different fruit part from lemon (Citrus limon Burm.) cultivars. Journal of Food Science & Technology. 2017 Apr; 54(5): 1108–1118. PMID: 28416860 13.) Stephen Brown. Scurvy: How a Surgeon, a Mariner and a Gentleman Solved the Greatest Medical Mystery of the Age of Sail. New York: St. Martin's Press, 2005 repr., esp. 96 & ff; also see John Addington Symonds. Shelley. New York: Harper Bros, 1879, ch. 2, 17 & ff. 14.) Bartholomew, M. James Lind's Treatise of the Scurvy (1753). Journal of the History of Medicine, Postgrad Med J 2002;78:695–696, 15.)Schnaubelt, Kurt. The Healing Intelligence of Essential Oils. The Science of Advanced Aromatherapy. 2011. Healing Arts Press. Rochester, VT.
Essential oils are not for use in pregnancy or lactation.
This information in our Herbal Reference Guide is intended only as a general reference for further exploration, and is not a replacement for professional health advice. This content does not provide dosage information, format recommendations, toxicity levels, or possible interactions with prescription drugs. Accordingly, this information should be used only under the direct supervision of a qualified health practitioner such as a naturopathic physician.
Popular Herbs
Our Herbal Reference Guide lets you enhance your relationship with herbs by giving you a comprehensive profile of each plant.
We're sorry, there were no result found for Popular Herbs.