Rosemary
Rosmarinus officinalis
Rosemary is a popular member of the mint family, native to the Mediterranean regions near modern Greece. Poets and physicians from antiquity through the present day have lauded Rosemary. The name derives from the Latin for "Dew" (ros) and "Sea" (marinus). It can indeed survive with just the sea mist and ambient humidity in its native range. It has been long associated with memory, youth, fertility, romance. In Christian Mythology, The Virgin Mary is said to have spread her blue cloak over a white-blossomed rosemary bush when she was resting, and the flowers turned blue. The shrub then became known as the 'Rose of Mary'. The culinary uses are many and it was also used as a preservative for meat prior to refrigeration along with Oregano and Thyme.
What is Rosemary Used For?
Rosemary is a very chemically complex plant, and one that is loaded with antioxidants. Most antioxidants support a healthy inflammatory response, and so this seems to be the case with Rosemary. Rosmarinic acid, carnosic acid, and labiatic acid, all constituents of the rosemary plant are commonly used as a natural preservatives in the food industry. Rosemary also encourages healthy digestion and supports liver health. Because of its potent antioxidant properties, Rosemary and its various constituents have been the focus of numerous scientific studies and clinical trials.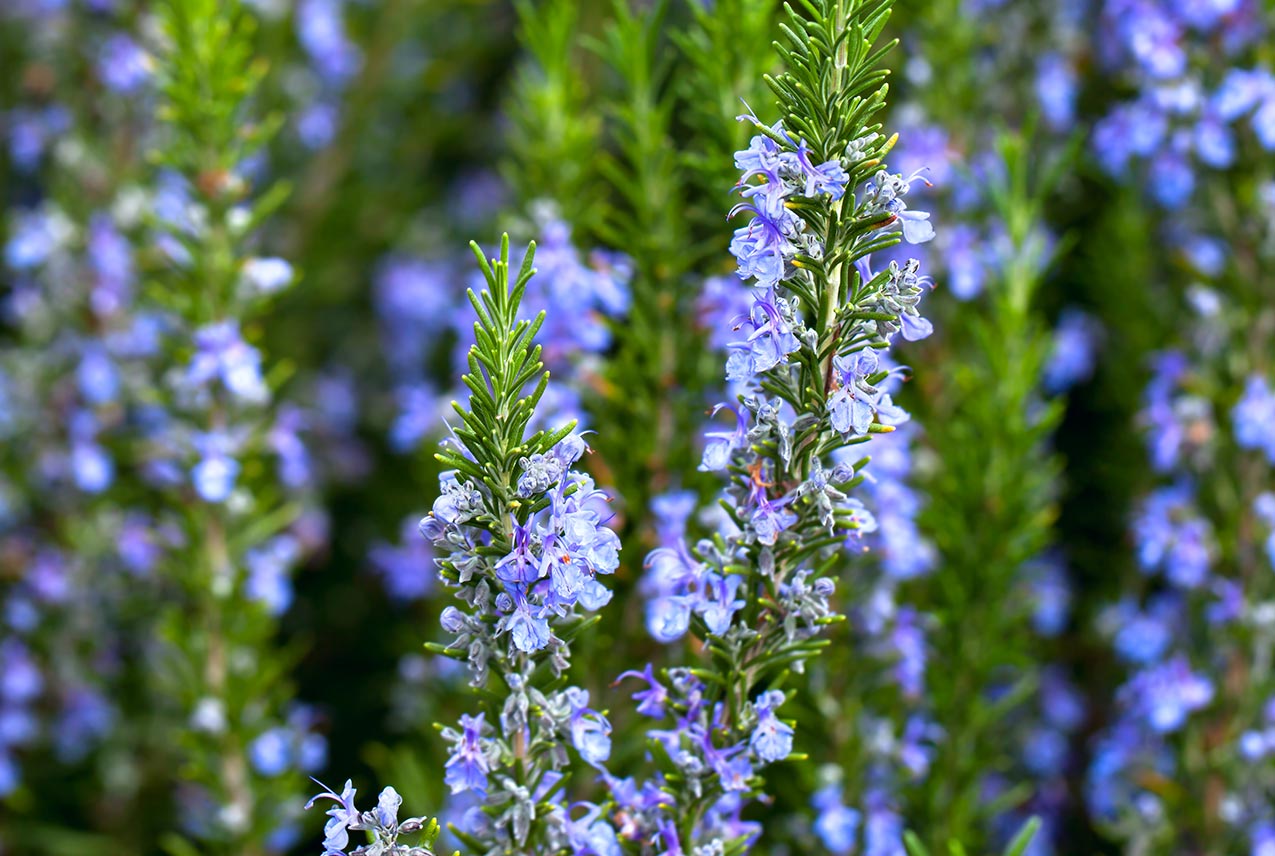 Traditional Health Benefits of Rosemary
Brain & Cognitive Support
Digestive Support
Foundational Support
Liver and Cleanse Support
Heart Support
Men
Additional Information on this Herb
1,8-cineole, borneol, camphor, carvacrol, and alpha-pinene, phenolic diterpenes, flavones, the caffeic acid derivative rosmarinic acid, the triterpene ursolic acid, other terpenes such as verbenone, and carnosic acid.
Leaf
1.)    Pengelly A, Snow J, Mills SY, et al. Short-term study on the effects of rosemary on cognitive function in an elderly population. J Med Food 2012;15:10. 2.)    Santoyo, S., Cavero, S., Jaime, L., Ibanez, E., Senorans, F. J., and Reglero, G. Chemical composition and antimicrobial activity of Rosmarinus officinalis L. essential oil obtained via supercritical fluid extraction. J Food Prot. 2005;68(4):790-795.3.)    Heinrich, M., Kufer, J., Leonti, M., and Pardo-de-Santayana, M. Ethnobotany and ethnopharmacology--interdisciplinary links with the historical sciences. J Ethnopharmacol 9-19-2006;107(2):157-160. 4.) Christine Tschiggerl, Franz Bucar Sci Pharm. 2010 September 30; 78(3): 483–492. Published online 2010 June 16. doi: 10.3797/scipharm.1004-23  5.)  Christine M. Kaefer, John A. Milner J Nutr Biochem. Author manuscript; available in PMC 2009 November 2. Published in final edited form as: J Nutr Biochem. 2008 June; 19(6): 347–361. doi: 10.1016/j.jnutbio.2007.11.003
Not for use during pregnancy or lactation. If you have a medical condition or take pharmaceutical drugs please consult your doctor prior to use.
This information in our Herbal Reference Guide is intended only as a general reference for further exploration, and is not a replacement for professional health advice. This content does not provide dosage information, format recommendations, toxicity levels, or possible interactions with prescription drugs. Accordingly, this information should be used only under the direct supervision of a qualified health practitioner such as a naturopathic physician.
Popular Herbs
Our Herbal Reference Guide lets you enhance your relationship with herbs by giving you a comprehensive profile of each plant.
We're sorry, there were no result found for Popular Herbs.