Spearmint
MENTHA SPICATA
This well-known culinary and traditional herb is native to Europe and Southwest Asia, but is found growing in almost every temperate climate. It grows so well in loamy soils it is considered invasive and it is recommended that it be grown in containers due to its ability to spread. Oil of Spearmint is commonly used to flavor jellies, jams, mouthwash, chewing gum, toothpaste and many other food and cosmetic items. All of these uses make Spearmint an important herb of commerce.
What is Spearmint Used For?
Spearmint has been used for many purposes although the aromatic and carminative oils have found their best assistance with occasional digestive complaints. The origin of the word "carminative" is particularly curious. It was borrowed from the French carminatif (masc.), carminative (fem.). Virtually all English-language dictionaries state that the French took the word from the Latin carminare, to card wool. However, a respected French dictionary Le Petit Robert indicates that carminare meant nettoyer, to cleanse. The confusion appears to stem from the fact that to card wool was to cleanse it. This however is a word always associated with the properties of mint, which does help to support the body in expelling excess gas from the intestines. Spearmint also supports relaxation in the body and has been used in herbal formulas and teas for this purpose. Modern studies have begun investigating Spearmint for its support of cognitive focus with intriguing results.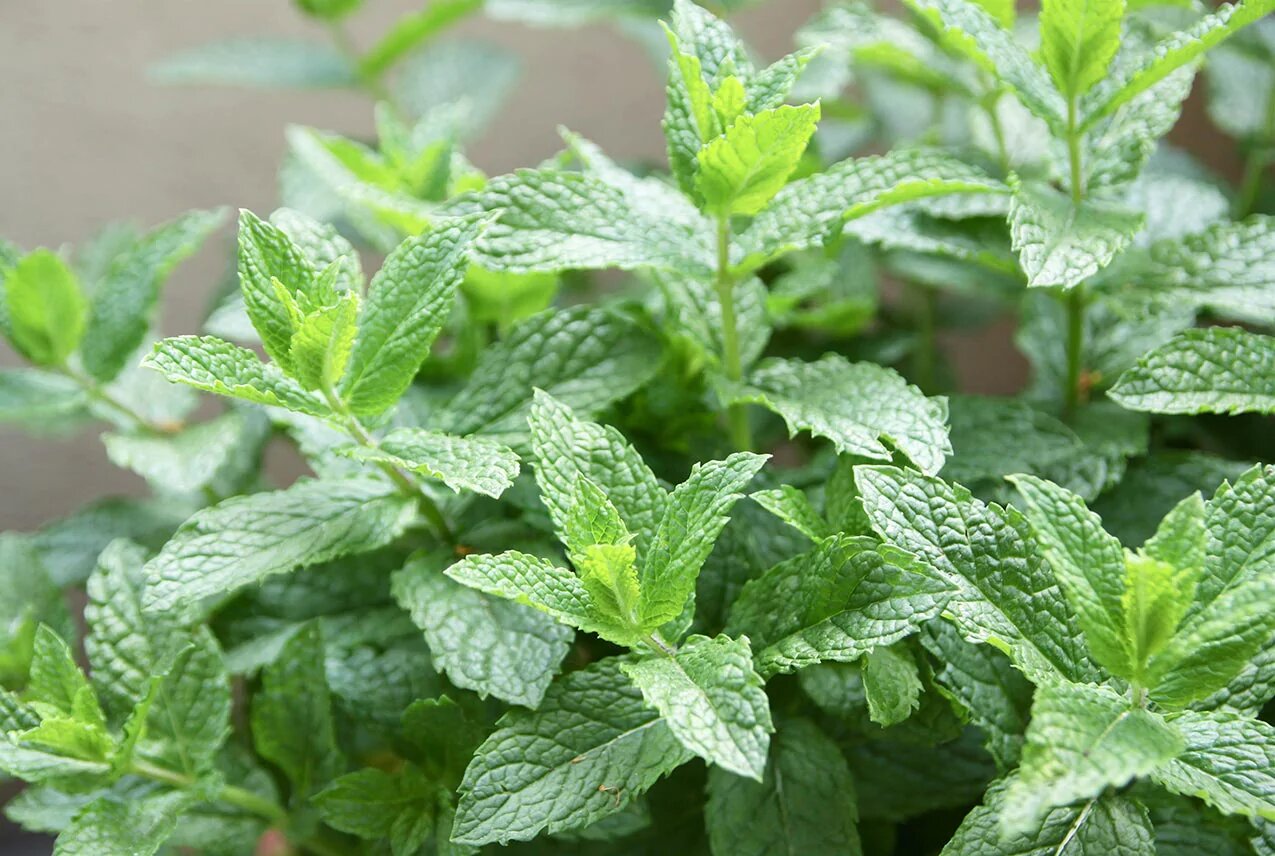 Traditional Health Benefits of Spearmint
Brain & Cognitive Support
Stress Support
Digestive Support
Additional Information on this Herb
essential oil: 1,8-cineole (eucalyptol), carvone, carvacrol, alpha-pinene, alpha-terpineol, caryophyllene, eugenol, limonene, pulegone, thymol, terpinen-4-ol, geraniol, menthol; apigenin, hesperidin, luteolin, rosmarinic acid, salvianolic acid, arginine, diosmin, farnesol, oleanolic acid
Leaf
1. Bardaweel SK, Bakchiche B, ALSalamat HA, Rezzoug M, Gherib A, Flamini G. Chemical composition, antioxidant, antimicrobial and antiproliferative activities of essential oil of Mentha spicata L. (Lamiaceae) from Algerian Saharan atlas. BMC Complement Altern Med. 2018;18(1):201. 2. Falcone PH, Tribby AC, Vogel RM, et al. Efficacy of a nootropic spearmint extract on reactive agility: a randomized, double-blind, placebo-controlled, parallel trial. Journal of the International Society of Sports Nutrition. 2018; 15(58):1-14. 3. Herrlinger KA, Nieman KM, Sanoshy KD, et al. Spearmint extract improves working memory in men and women with age-associated memory impairment. J Altern Complement Med. 2018;24(1):37-47. 4. Nieman KM, Sanoshy KD. Bresciania L. et al. Tolerance, bioavailability, and potential cognitive health implications of a distinct aqueous spearmint extract. Functional Foods in Health and Disease. 2015; 5(5):165-187. 5. Yoney, A., Prieto, J. M., Lardos, A., and Heinrich, M. Ethnopharmacy of Turkish-speaking Cypriots in Greater London. Phytother.Res 2010;24(5):731-740.
Not for use in excessive amounts during pregnancy and lactation. If you have a medical condition or take pharmaceutical drugs please consult your doctor prior to use.
This information in our Herbal Reference Guide is intended only as a general reference for further exploration, and is not a replacement for professional health advice. This content does not provide dosage information, format recommendations, toxicity levels, or possible interactions with prescription drugs. Accordingly, this information should be used only under the direct supervision of a qualified health practitioner such as a naturopathic physician.
Popular Herbs
Our Herbal Reference Guide lets you enhance your relationship with herbs by giving you a comprehensive profile of each plant.
We're sorry, there were no result found for Popular Herbs.