Triphala
PHYLLANTHUS EMBLICA, TERMINALIA CHEBULA, TERMINALIA BELLERICA
Triphala is a staple of Ayurvedic (Indian) practice used for well over 2,000 years. It is made from the dried powder of three different fruits, hence its name: tri (Three) and phala (Fruit). Amla (Phyllanthus emblica), Harada (Terminalia chebula) and Bihara (Terminalia bellirica) are mixed in equal parts to make a proper Triphala. It is said of Triphala; "No mother? Do not worry so long as you have Triphala." Indian people believe that Triphala can care for the internal organs as a mother cares for her children. References to the use of Triphala can be found in the Sushrut Samhita, which is dated to 1500 BC. The Sushruta Samhita contains 184 chapters and description of 1120 illnesses, 700 medicinal plants and a detailed study on Anatomy.
What is Triphala Used For?
Amla (aka. Indian Gooseberry, aka. Amalaki) is one of the highest natural known source of vitamin C, having 20 times the vitamin C content of an orange. The vitamin C in Amla is also uniquely heat stable. Amla is associated with the pitta dosha. Bihara is astringent, tonic, digestive and anti-spasmodic. Harada is a bitter and associated with the vata dosha, elements of air and space. It has emollient properties and as with most bitters encourages peristalsis and proper digestion. The Medicine Buddha in Tibetan tankas (sacred pictures) holds the harada plant.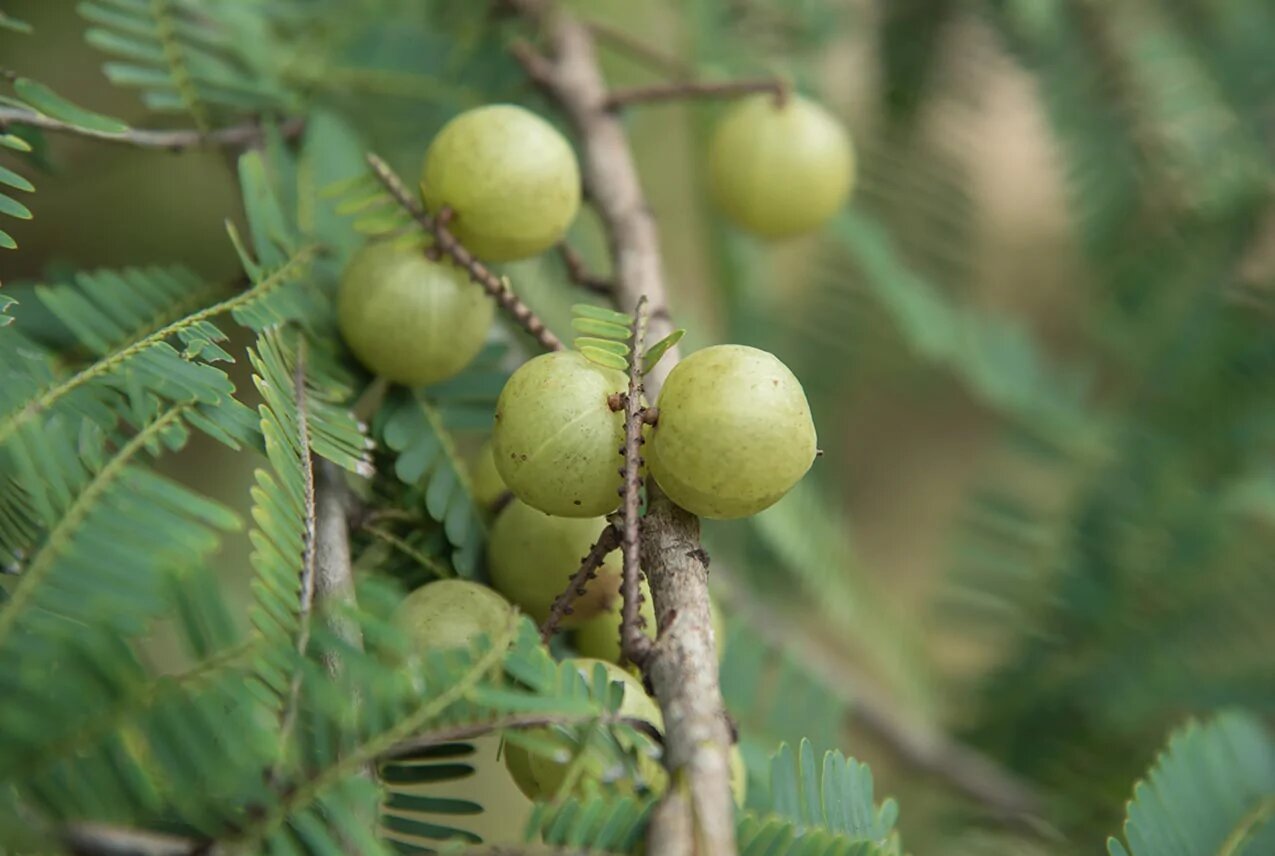 Traditional Health Benefits of Triphala
Digestive Support
Liver & Cleanse Support
Beauty & Radiance Support
Additional Information on this Herb
Ascorbic acid, Essential fatty acids, Fiber, Protein, Ellagic acid, linoleic acid and linolenic acid.
Dried fruits
Carlsen, Halvorsen, Holte, et.al. Nutr J. 2010; 9: 3. The total antioxidant content of more than 3100 foods, beverages, spices, herbs and supplements used worldwide.
Not for use in during pregnancy or lactation. If you have a medical condition or take pharmaceutical drugs please consult your doctor prior to use.
This information in our Herbal Reference Guide is intended only as a general reference for further exploration, and is not a replacement for professional health advice. This content does not provide dosage information, format recommendations, toxicity levels, or possible interactions with prescription drugs. Accordingly, this information should be used only under the direct supervision of a qualified health practitioner such as a naturopathic physician.
Popular Herbs
Our Herbal Reference Guide lets you enhance your relationship with herbs by giving you a comprehensive profile of each plant.
We're sorry, there were no result found for Popular Herbs.